This week marked the 74th Golden Globe Awards ceremony, broadcast live and hosted by comedian and actor Jimmy Fallon.  His performance has been widely criticized for being weak and tame, especially at a time when America is in shock over its recent presidential election results.
However, we shouldn't let the host's own failings detract from what is a fantastic way to celebrate the works of the super talented and downright fabulous actors and productions.  With its second highest TV viewing audience of 20 million, this year's show showed just how much the world cares about film and TV.
Highs
Meryl Streep
The biggest high surely had to be Meryl Streep's powerful and memorable acceptance speech.  The much-honoured actress was awarded the Cecil B. De Mille Award for lifetime achievement, a much deserved honour.

Credit:  Paul Drinkwater/NBCUniversal via Getty Images
The screen legend spoke out against newly elected President Donald Trump's views on foreigners, stating how Hollywood is amazing because it features talent from all over the world.  Although she never mentioned Trump by name, it was very obvious that she is not in agreement with his policies and received huge support from the crowd.
However, she did receive stony faces from both Mel Gibson and Vince Vaughn, who perhaps disagreed with her using the platform to get the message across or simply didn't agree with her views.  Either way, their reactions also gave us one of the highs of the show, with many taking to social media to express their delight in them.
Credit: NBC
Donald Trump has since called her 'over-rated' which is perhaps another high, since this highlights that side of his personality which so many dislike.
Meryl Streep's extraordinarily moving parting line was a wonderful quote from the late, and very much loved, Carrie Fisher: 'Take your broken heart and turn it into art'.
Kristen Wiig and Steve Carell
As this comedy duo presented an award, they treated the audience to stories of when they first ever watched an animated film.  The audience was in fits of giggles as the funny pair recounted their memories with the very humour they are so respected for.  If you haven't seen this part of the show, make sure you catch it online.  You won't be disappointed!
Ryan Gosling's Acceptance Speech
The extremely private actor made a very emotional and heartfelt speech, paying tribute to his wife, the very beautiful actress Eva Mendes.  While he was filming La La Land, she was raising their first daughter and carrying their second, whilst also caring for her brother who was fighting cancer.
Sadly, Carlos Mendes died at the age of 53 and Gosling beautifully dedicated his award to him.  There was not a dry eye in the house as he made this wonderful speech, reminding us all of what is important in life. 
The glamour
As always, the stars turned out in all their glamorous glory.  Here is the rundown of my favourite looks from the red carpet:
Who:  Emma Stone
Wore:  Valentino Haute Couture custom gown
Credit:  Getty Images
Who:  Ruth Negga
Wore:  Louis Vuitton dress
Credit:  Getty Images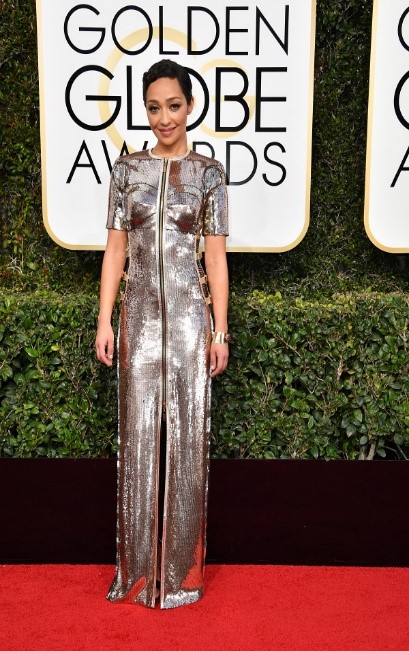 Who:  Evan Rachel Wood
Wore:  Altuzarra custom tuxedo
Credit:  Getty Images
Who:  Nicole Kidman
Wore:  Alexander McQueen S/S 17 silver wave shipwreck gown
Credit:  Getty Images
Who:  Sarah Jessica Parker
Wore:  Vera Wang Collection gown
Credit:  Getty Images
Who:  Natalie Portman
Wore:  Prada gown
Credit:  Getty Images
Who:  Priyanka Chopra
Wore:  Ralph Lauren dress
Credit:  Getty Images
Who:  Ryan Gosling
Wore:  Gucci tuxedo
Credit:  Frazer Harrison/Getty Images
Who:  Donald Glover
Wore:  Gucci suit
Credit:  Frazer Harrison/Getty Images
Who:  The boys from 'Stranger Things'
Wore:  A mix of designers, including Dolce & Gabbana and Kenneth Cole.
Credit:  Kevork Djansezian/NBC/NBCU Photo Bank/Getty Images
There were many highs on the night but there were also some lows, which should not be ignored.
Lows
Jimmy Fallon
As already mentioned, host Jimmy Fallon's performance did not receive much praise.  It began when his teleprompter failed at the start of the show, so he had to ad-lib.  This is always a difficult task for anyone but you would expect a comedian and TV host to cope just fine.
Wrong!  The presenter blundered his way through the awkward segment, making us all curl our toes and watch from behind a cushion.
Hidden Fences
On the red carpet, before the show had even begun, NBC correspondent Jenna Bush (yep, George W. Bush's daughter) asked Pharrell Williams a question and led with the statement that he was nominated for Hidden Fences.
He wasn't.  He was actually nominated for his work on Hidden Figures, another period drama focused on African-Americans.  Social Media saw an outcry and accusations of racism, doing little to dispel the long-held view that the various awards ceremonies do not recognise this section of Hollywood enough.
During the ceremony, Michael Keaton then presented an award and made the same mistake, when calling out Hidden Figures co-star Octavia Spencer.
Carrie Fisher and Debbie Reynolds Tribute
This mother and daughter acting duo died within days of each other, in sudden and tragic circumstances.  The world was shocked and Hollywood grieved.  However, the ceremony included only a minute and a half section in tribute, with a very grey and generic montage.
Surely the careers of both of these wonderful and much loved actresses deserved a better tribute?  Whilst their deaths were only a couple of weeks ago, that is ample time for a better tribute to have been constructed.  Meryl Streep's short, yet poignant, tribute to Carrie Fisher was far more heartfelt and memorable.
Credit:  Jason LaVeris, Getty Images
Tom Hiddleston
The Night Manager star won the award for Best Actor in Miniseries or TV Movie, which is an undisputed high.  He is a very talented actor and, his doomed relationship with Taylor Swift aside, has been very popular with the public in recent times.
However, his acceptance speech saw him speak at great lengths of his own humanitarian work in South Sudan.  Whilst we would all agree that his humanitarian work is to be admired and respected, drawing attention to it is a big no-no.
He told us all of the aid workers finding hope while watching The Night Manager and we could only cringe as he basically gave himself a slap on the back.
He has since apologised on social media and admitted he was nervous, with his words coming out wrong and he had simply intended to 'salute the incredible bravery and courage of the men and women who work so tirelessly for UNICEF UK, Doctors Without Borders/Medecins Sans Frontieres (MSF), and World Food Programme, and the children of South Sudan'.
You can find the complete list of winners below, so you too can enjoy the talent on display from 2016:
Winners
Best Film Supporting Actor – Aaron Taylor-Johnson, Nocturnal Animals
Best Actor in a TV Series (drama) – Billy Bob Thornton, Goliath
Best Actress in a TV Series (musical/comedy) – Tracee Ellis Ross, Black-ish
Best TV series (comedy) – Atlanta
Best Actress in a Miniseries or TV Movie – Sarah Paulson, American Crime Story: The People v OJ Simpson
Best Miniseries of TV Movie – American Crime Story: The People v OJ Simpson
Best Supporting Actor in a Series, Limited Series or TV Film – Hugh Laurie, The Night Manager
Best Film Score – La La Land
Best Original Song – City of Stars, La La Land
Best Supporting Actress in a Motion Picture (drama) – Viola Davis, Fences
Best Supporting Actress in a Series, Limited series or TV Film – Olivia Colman, The Night Manager
Best Actor (comedy/musical) – Ryan Gosling, La La Land
Best Screenplay – La La Land
Best Animated Film – Zootopia
Best Foreign Language Film – Elle
Best Actor in Miniseries or TV Movie – Tom Hiddleston, The Night Manager
Best Actress in a TV Series (drama) – Claire Foy, The Crown
Best TV Series (drama) – The Crown
Best Film Director – Damien Chazelle, La La Land
Best Actor in a TV Series (musical/comedy) – Donald Glover, Atlanta
Best Actress in a Film (comedy/musical) – Emma Stone, La La Land
Best Film (comedy/musical) – La La Land
Best Actor (drama) – Casey Affleck, Manchester by the Sea
Best Actress (drama) – Isabelle Huppert, Elle
Best Film (drama) – Moonlight